All abstracts of the All-Russian Scientific Conference with International Participation "Geoarchaeology and Archaeological Mineralogy" are presented in the Proceedings (peer-reviewed edition). The publication was started in 2014.
The Proceedings include publications of new data on the prehistoric past of man, which were obtained with the help of various natural-scientific research methods. Separate sections are devoted to discussion of topical issues of geoarchaeology (archaeometry), development of mineral resources base of ancient societies, revealing features of ceramic production in ancient times and methods of stone material processing, as well as characteristics of ancient mining and metallurgical complexes and related products of metallurgical conversion and metal production. The publication is intended for archaeologists, geologists, historians and museum workers.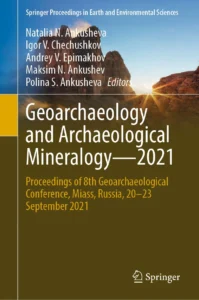 Since 2019, the publication of expanded conference proceedings (Proceedings) in Springer entitled "Geoarchaeology and Archaeological Mineralogy. Proceedings of Geoarchaeological Conference, Miass, Russia" within the series "Springer Proceedings in Earth and Environmental Sciences https://www.springer.com/series/16067. The contents of the 2019 and 2021 conference proceedings can be found on the Springer website https://link.springer.com/book/10.1007/978-3-030-48864-2 and https://link.springer.com/book/10.1007/978-3-030-86040-0.
Founder: Federal State Budgetary Scientific Institution South Ural Federal Research Center for Mineralogy and Geoecology of the Ural Branch of the Russian Academy of Sciences
Publishers: South Ural Federal Research Center of Mineralogy and Geoecology, Ural Branch of the Russian Academy of Sciences, South Ural State University of Humanities and Education
Editorial address: 456317, Russia, Miass, Chelyabinsk region, the territory of the Ilmensky Reserve
EDITORS-IN-CHIEF:
Anatoly M. Yuminov, PhD in Geology and Mineralogy, South Ural Federal Research Center of Mineralogy and Geoecology, Ural Branch of Russian Academy of Sciences (Miass)
Natalia N. Ankusheva, PhD, South Ural Federal Research Center of Mineralogy and Geoecology, Ural Branch of Russian Academy of Sciences (Miass)
EDITORIAL BOARD:
Maksim N. Ankushev, PhD in Geology and Mineralogy, South Ural Federal Research Center of Mineralogy and Geoecology, Ural Branch of RAS (Miass)
Polina S. Ankusheva, PhD in History, South Ural State University of Humanities and Education (Chelyabinsk), South Ural Federal Research Center of Mineralogy and Geoecology, Ural Branch of RAS (Miass)
Dmitry A. Artemyev, PhD in Geology and Mineralogy, South Ural Federal Research Center for Mineralogy and Geoecology, Ural Branch of RAS (Miass)
Ivan A. Blinov, PhD in Geology and Mineralogy, South Ural Federal Research Center for Mineralogy and Geoecology, Ural Branch of RAS (Miass)
Elizaveta V. Zaykova, PhD in Geology and Mineralogy, South Ural Federal Research Center of Mineralogy and Geoecology, Ural Branch of RAS (Miass)
TYPE OF REFERENCE: one-side blind review
TYPES OF PROCEEDINGS: printed and electronic books